Despite the commonly held belief that IT is a man's world, women have made contributions to the sector from the earliest times. Ada Lovelace, a mathematician from the 1800s, is widely regarded as the first computer programmer, whose pioneering work in the IT field has made a significant and lasting impact. In honour of her contribution, a computer language (and ISO standard !) was named after her, Ada, almost two hundred years later !
In Ada's footsteps, women's participation in the IT sector is on the increase, with more and more girls choosing to study IT in college/university than ever before. Below are a remarkable group of women who tell us how their experience in the world of IT standardization has brought fulfilment, friendship, challenges and some great stories.
Ada programming language for greater reliability and security
Often used in air traffic control, banking and other high-risk industries because of its reliability, the Ada programming language has become even more flexible and secure with the third edition of ISO/IEC 8652:2012, Information technology – Programming languages – Ada.
Among other improvements, the latest version of Ada offers a feature commonly referred to as " contract-based programming ". Found in very few other languages, it significantly strengthens programmes against bugs and malicious use.
Ada was originally designed with three broad goals :
Programme reliability and maintenance
Programming as a human activity
Efficiency
Since then, the language has been ameliorated to increase flexibility and extensibility, and give more control and wider support. The 2012 version further enhances its capability and expressiveness, as well as the dependability, safety and security of programmes using the language.
The revision responds to real user needs, for example by improving portability, interfacing to other languages, adding formal support for contract-based programming, and continuing to improve object-oriented and real-time capabilities.
" By publishing Ada as an International Standard, users know that any updates will be accessible to developers around the world, and have confidence on the stability of the updates, " says Dr. Joyce Tokar, Convenor of the working group that developed the standard.
This is critical as Ada is often used in industries where security and dependability are crucial. Examples include aviation and air traffic control, satellites, medical and banking sectors, railway and subway systems, and the military, to name a few.
The language was originally commissioned by the US Department of Defense to consolidate programming languages in the military, and it was published as an ISO standard in 1987. It is named after Ada Lovelace, considered to be the world's first computer programmer.
Karen Higginbottom – Modern times
I have been struggling a bit over why it is " politically correct " to have an article on the women in ISO/IEC's joint technical committee JTC 1, Information technology. Having often sought to be treated no differently " just because I'm female ", this seemed almost like a dichotomy. But, as I attended the 100th meeting of the MPEG (Moving Picture Experts Group) working group of ISO/IEC JTC 1, subcommittee 29, Coding of audio, picture, multimedia and hypermedia information, in May 2012, there it was staring me in the face. There were more than just a few women in attendance. Women were even being acknowledged on stage as speakers and leaders, both within the standards activities and within their companies, universities or organizations. It was a revelation for me – sometime, almost overnight, women had reached a tipping point.
Perhaps this is best understood against the backdrop of my 25 years in standards and consortia. I started in telecom standards in the US where I was the only woman in the management body. When I joined Ecma International, I was the first woman ever in attendance. At the consortium entitled Corporation for Open Systems, of which I was the Steering Committee Chair, Judy Brown was the only other woman there – an experience so unique that she and I have remained lifelong friends. And when I later went to work at HP, I was thrilled to collaborate with Josée Auber who has always been technically strong and an effective leader in standardization activities, now the President of Ecma International. In short, two decades of meetings with so few women in information and communication technology (ICT) standardization that I could count them on one hand !
But the MPEG meeting made it clear : whatever unique obstacles or challenges somehow limited the participation of women, they are now key contributors to the ICT standards process. So much so, in fact, that it seems fitting to acknowledge some of them here.
Karen Higginbottom
Chair
Joint technical committee ISO/IEC JTC 1, Information technology.
---
Kate Grant – A mother's tale
I began working on industrial communications standards when my first four children had got to a stage where they could be left for a week at home. At my second international meeting, I was once again pregnant and, every time the convenor raised his voice, the baby kicked hard. That autumn, at three months, she attended her first meeting in Germany and slept peacefully as delegates discussed time-critical communications.
A meeting in China nine months later presented more of a challenge. In 1990 flights were infrequent, so a one-week meeting meant 10 days away. My eldest daughter came and babysat. Between meetings, the United Kingdom (UK) delegation and nine-month-old Alice visited major tourist attractions, and during meetings, my baby girl explored the area around our hotel.
As an editor of the standard, I needed to attend the meetings and, the following autumn, my second daughter babysat Alice when we went to Michigan. During this time, I visited the General Motors Technical Center.
The company I worked for cooperated with a UK university to provide a tutorial on the emerging Manufacturing Message Specification. It was important to closely involve the activities of technical committee ISO/TC 184, Automation systems and integration, to ensure it correctly reflected the standard.
Two years later, my youngest daughter began her career in standards at only five weeks old. We travelled to Carlsbad, California, where I worked with joint technical committee ISO/IEC JTC 1 on time-critical communications. This was followed by two trips to Japan before her first birthday to pursue both this and additional industrial communications standardization. My eldest daughter developed a liking for Japanese beer, made friends with a Yokohama family with teenagers of a similar age and helped me to navigate Tokyo trains with the pushchair.
Looking back, it was unusual to continue working in international standardization with such young children, but it allowed me to stay involved and contributing.
As my work began to include more developments related to video compression, metadata and communications, the pace increased to the four meetings per year that MPEG (Moving Picture Experts Group typically holds. For several years, I attended all these meetings, contributing to UK positions and specific standards such as those related to aspects of video surveillance.
Occasionally, the children came along for the travel experience and I can remember taking three of them to a meeting in San Francisco followed by a week in Shanghai. While I worked, they enjoyed cycling over the Golden Gate Bridge, visiting Alcatraz and exploring the different faces of ancient and modern China.
Working with experts from around the world has given me insights into different ways of life. The emergence of global communications and IT – and specifically my laptop – means that it is no longer necessary to carry a case bulging with papers onto the plane (pretending it is as light as a feather).
Having suffered the onset of a permanent disability, I am now deeply involved in accessibility-related standardization, especially as it can target those people with no clearly focused pressure groups. At times, my children have accompanied me to places as contrasting as Hong Kong and Sheffield to push my wheelchair and enable me to remain engaged with standardization.
Those of us with limited mobility and manual dexterity may look the same as everyone else, but we can struggle to cope, have to plan trips around hospital treatment and must ensure we travel with medication. We also need enough extra medication to cope with unexpected traumas such as flight cancellations following a volcanic ash disruption so that we can " keep calm and carry on ".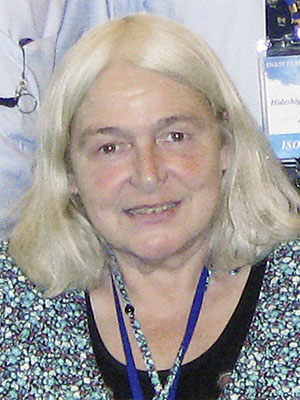 Dr. Kate Grant
Consultant
Nine Tiles Networks Ltd
United Kingdom
---
Marina Bosi – Conceiving MP3
I vividly remember my first MPEG (Moving Picture Experts Group) meeting, which took place in Paris in 1991. I had just joined Dolby Laboratories as the first female engineer in the R&D department and was working on Dolby's proprietary codecs. I was asked to represent Dolby in the International Standards arena and the Paris MPEG meeting would be my first foray into that activity. It was with both excitement and trepidation that I boarded the flight to Paris.
At the time, my colleagues and I were working on stereo audio coding techniques similar to the ones being considered by the ISO/IEC MPEG audio group. We were also branching out to multichannel extensions with AC-3 (later known as Dolby Digital).
The Dolby and MPEG audio coding technologies addressed the same market needs and were in competition, so I felt a bit of an outsider and scrutinized as a representative of Dolby Labs. I was also the only woman in a room full of male engineers, which didn't help, and, in Paris, my first instinct was to stay quietly hidden behind a desk.
I was travelling with my boss's boss at the time and, upon arrival, he bluntly ordered : " Marina, you must now go around the room and introduce yourself to everyone. " This was the last thing I wanted to do, and the most difficult task that had been asked of me in my budding career ! Fortunately though, I ended up meeting people who became long-lasting professional collaborators and some of my closest personal friends.
The 1991 MPEG meeting in Paris, as it turns out, was a particularly significant meeting, not just personally (I doubt anyone took much notice of my first attendance), but also historically. In the MPEG audio group, we lay down a major building block, the hybrid filterbank, the backbone of what later became the MP3 format. These days everyone is familiar with MP3 but, at the time, it was a stab in the dark and an effort most people considered doomed from the start.
My work within ISO/IEC continued through the years and, thanks to the incredible friends and colleagues I met through MPEG, I enjoyed a number of successes, including leading the development of the then newly conceived MPEG advanced audio coding, which today is widely used in Apple's iTunes and iPod-based products. ISO/IEC has had, and continues to have, a major role in the development of media technology and I feel fortunate to be a part of this community.
Dr. Marina Bosi
Consulting Professor
Stanford University's Center for Computer Research in Music and Acoustics
California, USA
---
Josée Auber – No beards about it
I came to standardization from standards-based software engineering. At that time, in the early 1990s, open systems interconnection still shined, but Internet protocol-based networking and hypertext transfer protocol (http) were fast catching up.
Being active in join technical committee ISO/IEC JTC 1 and in key standard bodies in the industry, I was honoured to become part of a small group that invented the JTC 1 Publicly Available Specification (PAS) process. This enabled me, in JTC 1, to keep bringing together the best standards, whatever their origin.
Looking back, if standards and technologies come and go, the lessons learned from people I met in various committees remain vivid memories. The first lesson came after a horrendous technical battle when my staunch opponent told me : " We've had a good fight today – let's go and have a beer together ! " This has happened many times, whether ending with drinks, dinner or a cup of tea, and our fierce debates have never prevented me from getting to know people with different views and backgrounds.
Being a woman in standardization, and working in France for a Californian-spirited company, has not brought particular challenges. It has brought amusement though, like when I was told that, in order to convince a particular person, I would need to be German with a loud voice and a beard. But perhaps I just felt at ease in JTC 1, a place that has never lacked women in leading roles !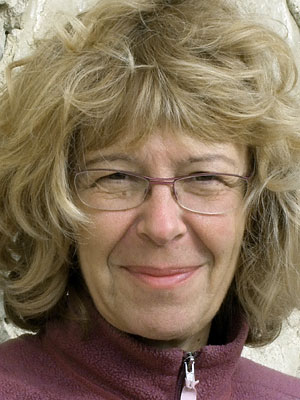 Josée Auber
Director of Standards Europe
Hewlett Packard
---
Catherine Tilton – Roll up your sleeves
Firstly, let me say that it's great to be considered one of the "Women of JTC 1" and I feel I am in good company !
Joining in 2002 as a relative novice, I feel that my experiences over the past 10 years have been personally rewarding and provided many opportunities for growth. I have also greatly enjoyed the diversity of people I have worked with and have come to appreciate their talents, contributions and perspectives.
Although this appreciation has been mainly mutual, there is one incident that sticks in my mind. JTC 1 subcommittee SC 37, Biometrics, was formed in 2002, with 17 countries initially coming together to organize and begin work on standards related to biometrics.
Watching this unfold was interesting, as the many agendas collided and compromises were made. Serving as head of the US delegation, it was a challenge to herd our 25 delegates and negotiate with other national bodies, but as a group we were successful.
Months later, one of the US delegates mentioned that a foreign delegate had asked why the US had a woman as its head of department. He retorted that perhaps she was the best-qualified person. I hope to have proven myself since then !
Progressing the work of the committee requires active contribution, review and debate. Many participants, like myself, have day jobs, with their standards work being an "additional duty", often performed after hours. This is why you have to love it and it's certainly not for everyone. It takes a unique combination of technical competence and people skills. My advice to those interested in joining in is to "roll up their sleeves", get to work and be prepared to compromise !
Catherine Tilton
Vice-President, Standards and Technology
Daon
US Head of Department of joint technical committee ISO/IEC JTC 1, Information technology, subcommittee SC 37, Biometrics
---
Jaeyeon Song – Overcoming prejudice
As a woman IT engineer and as a woman working in standardization, I feel my life has special meaning.
There are few women in IT standards meetings and, in my 10 years in this field, I have usually been the only female participant. But I have experienced only warmth and kindness and feel the world of standardization is welcoming to women.
IT standards meetings require the right measure of technology, persuasiveness and good social relationships since the standardized solution must be based on consensus and the best technology. Good technology alone does no make a standard.
Despite the warm welcome and rapid recognition, a woman's technical contribution will not always be readily accepted in an environment that is still very much a male preserve.
For me, the answer is to have confidence in my technology and to prove my ability as a professional engineer, not as a female participant. Sometimes this involves overcoming prejudice.
Standards work is challenging and interesting. Like life itself, it has high's and low's and is full of surprises. And it's a life I love !
Jaeyeon Song
IT engineer
Samsung Electronics
---